How To Improve Your Dressage Riding and MORE Importantly Never Feel Alone, Confused And Frustrated Again
Join us in May to receive your BONUS "Ultimate Contact" package – yours FREE – valued at $97!!
Hi Riding Superstar,
I hope you are as excited to be here reading this as I am writing it. WHY?
Because I know that this could be the very turning point in your riding.
Below, I'll answer and address your most burning dressage questions and show you everything you need to quickly advance through the dressage levels and become the riding superstar that you are.
Why do I know this… because I once was where you are now. I've been there… frustrated, confused, lost for answers (and with lots of tears!!!!)
And this is why I created…
Dressage Mastery Academy: Your Complete Guide from Basics to Grand Prix (or anywhere in between)
It's like having your very own Grand Prix dressage expert hold your hand and guide you every ride. Showing you all the "tips & tricks" and costly mistakes to avoid. Ultimately transforming you… taking you to the next level!
I'd love to explain to you exactly what "Dressage Mastery Academy" is… how it works… and why (as you'll see in a moment) this could be the most exciting step you take in progressing and understanding your dressage journey…
First, let me introduce myself…
My name is Natasha Althoff and I am a Grand Prix dressage rider. Like you, I love horses and riding, and for as long as I can remember I always wanted to be a Grand Prix dressage rider.
When I started riding, I set myself a goal of reaching Grand Prix in 5 years (having never been there before)… Little did I know!!! I was young and naive.. I was about to make every mistake in the book… and I was in for a shock!
I also thought that any trainer I trained with would be able to take me there. Again… I was about to be very disappointed.
What I didn't know when I set off on my journey to Grand Prix was how difficult my journey was going to be. I found riding hard. I found riding frustrating… frustrating to understand… frustrating I wasn't progressing quickly enough… and frustrated and confused that my coaches seemingly couldn't give me the answers I was after.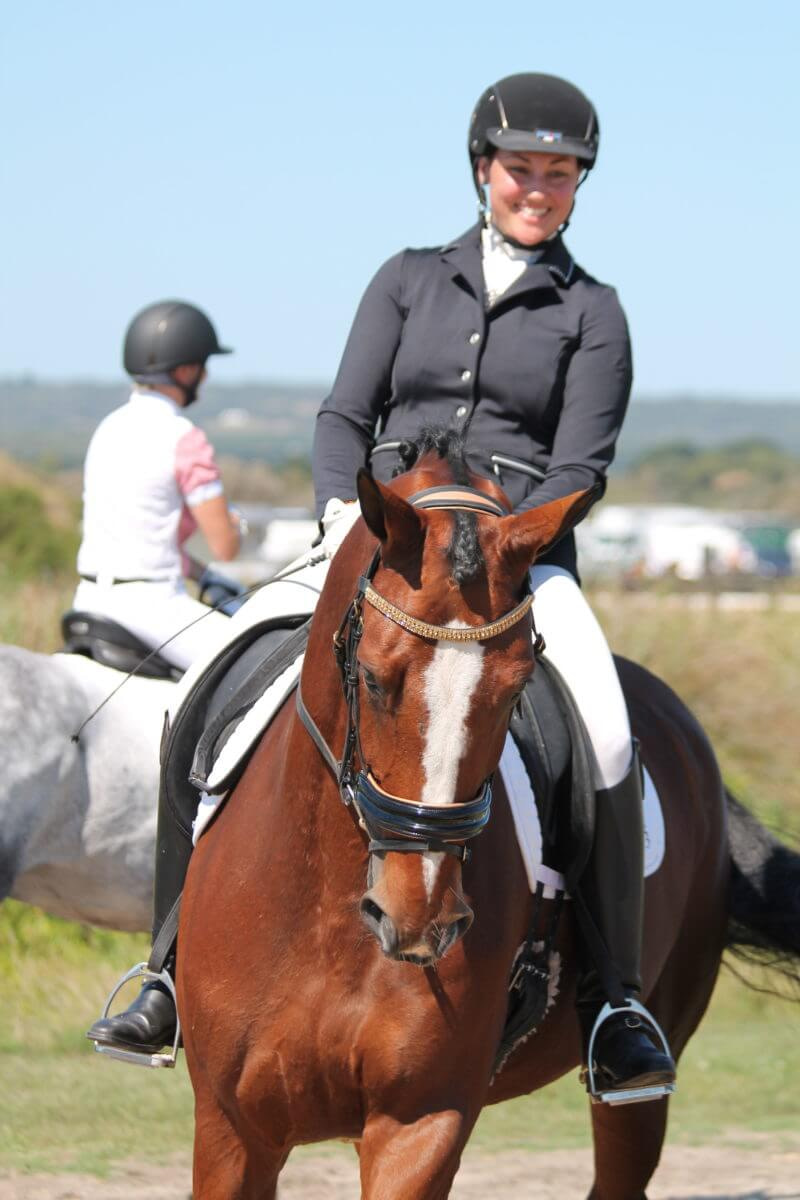 I looked to the top riders in the world to find out what they were doing different. I discovered that many top riders were following a framework for their training called 'The German Training Scale' (most likely you have heard of this scale as it's quite famous in the horseworld!). And so I thought… let's train the German training scale (that'll work!!). And so this began my journey with the German training scale.
As I soon discovered… just because you find something like this, doesn't mean it will necessarily work for you!
The German Training Scale, like most coaches focuses on the horse, but doesn't have any focus on the rider.
It provides great direction and focus of what to work on.
BUT… when I was using it I felt it lacked something big…
I'm all for focussing on the horse, but I believe that I found the flaw in this system. If we are just focusing and developing the horse, what about the riders development…
WHAT ABOUT THE RIDER?
And so I set about creating a scale that… wait for it… focussed on the rider. I carefully developed a scale that paired up perfectly with the German Training Scale.
I created the 'Rider Success Scale'.
More importantly, by using the Rider Success Scale together with the German scale I saw massive improvements and results. Not only in my results but in my students and now in riders all around the world.
Think of it like this.
A rider says that they want their horse to be better on the bit. But sometimes your horse can't go better on the bit until you work on your hands. The German Training Scale does not focus on this bit.
Improving and working to keep your hands more still is part of the Rider Success Scale.
If you move… your horse moves. By focussing on you, the rider, at the same time you work on your horse, you are doubling your progress. And that makes you one happy rider!! 🙂
By using the scales side by side, my clients and I were able to progress much more quickly with a complete understanding of dressage.
And this formed the structure for…
A revolutionary online training program that guides you step by step from basics to Grand Prix (or any level in between) in a fun way. You'll never feel alone again in your training as I'll hold your hand each step of way.
Dressage Mastery Academy is made up of 10 courses. Each course being made up of 12 parts (usually taken monthly).
Starting with the basics… or as I like to think of it, the foundation. From here each course matches a level in dressage. For example course 2 is training level (or preliminary) all the way up to course 10 which is Grand Prix.
---
'Each part of the course has been carefully structured. As your guide, I will make sure you don't make the same mistakes as I did in my training. This will save you lots of time and money.'
---
How far can Dressage Mastery Academy take you?
How far do you want to go in your riding? Pick a level and I can take you there!
I believe that all riders regardless of the level they are training should start with the Dressage Mastery Basics. The mastery of these foundations are vital to ultimate success at the higher levels. 
---
If you are relatively new to riding it's critical to build a strong, solid foundation…much like a house!
Get this right and you can build as many levels on this as you want.
Get it wrong though, and let's just say we all know what happens then!
---
But what if you have been riding and perhaps up to 2nd level (Novice)?
I believe we need to check your foundations.
The foundations are critical in understanding each step of the German Training Scale and learning the Rider Success Scale.
It's making sure there is a solid understanding of the scales, the terms used and that there are no bad habits that have crept into the training.
With the foundations checked and now confirmed solid, you can then skip forward to the level of riding that you are up to!
For example if you are riding Novice/First Level or Elementary/Second Level?
No problems – simply write to us and we'll slot you in at that level.
Some of the lessons you will learn in Dressage Mastery Basics include:
The 3 must do's to having a seat like a Grand Prix rider.

(These 3 things are all used by the top riders around the world… you'll learn exactly what they are and how to use them in your riding… Part 1)
Clever ways to ensure you have a straight horse… such a vital aspect to have in our riding!

(A horse can't move forward if it isn't straight. It can't have impulsion and it can't collect properly. Discover what exactly straightness is and how to achieve it in Part 5 of the program)
Is this the one of the secrets why the German riders have dominated dressage for so long?

(Ever heard of Losgelassenheit? Discover in Part 2 what this means… but more importantly what it means to the progress of your riding)
How to prepare a horse for the perfect transition using this 3 step approach.

(In Part 4 you'll discover the system to achieve the perfect transition both, through and within the gait, that will make riding them easy and effortless)
How to know if you have correct leg yielding?

(Use the 7 step checklist, found in part 5 of the program, to identify whether you have the ideal leg yield… and if that's not enough consult with the easy lookup troubleshooting table)
The fun exercise to check if your hands are in fact perfectly still when you ride.

(Get this wrong and you'll need a change of clothes!)
10 rules for a winning riding mindset

. (Discovering these, in part 2, will change your training experience giving you clarity producing better results)
The importance of keeping your hands independent of your body… no matter if your body is moving around beneath you!

(Steady hands mean a steady contact… fix this and your horse will stop throwing it's head around!! … Part 3)
Discover why all the top athletes are using this technique to give them the edge and get better results… (Part 2).

(I've been applying this to my riding and training for years and it makes the difference. If a super talented rider, with an amazing horse and exceptional  talent, lacks this… they'll never make it to the high levels)
Get a complete understanding of perhaps the most important term you'll ever hear in riding… 'the half-halt'!

(Possibly one of the most used terms in a riding lesson but I constantly find one of the most confused and misunderstood at the same time. Understand and learn this properly and it is a game changer to your riding (Part 6)!
As a Valued Member of Dressage Mastery Academy
You will receive…
How To Riding & Coaching Videos
Videos of me riding or coaching a variety of riders.
Including GoPro footage to give you views of what the riders hands are doing so you'll be able to learn quicker and see what works and what doesn't work.
Full Lesson Voiceover Audio
Take these downloadable lessons and learn  whenever you want by having an instructor in your ear.
Listen on the road, at the barn or on a walk. These lessons will explain what is happening at every moment  giving you a complete picture of what's happening.
Classroom Theory Lesson
Finally a class you wish they had at school!
Learn the strategies you need to train your horse through the levels.
You'll finally have a complete understanding of all dressage terms like never before!
MANUAL
Complete with checklists and a troubleshooting guide so you can refer to anything you need if you get lost or stuck in your training.
Download these and print them out and write notes in it as you make your way through the training.
Your first manual is over 25 pages.
Training Plans
You'll never be stuck again in what to do in a riding session!
Follow these training plans when you ride. They are carefully thought out to make the most from your ride at each level.
The result… a complete worked horse and quicker and progress.
Monthly Training Challenges
These fun, useful challenges will have you sharing with the private riding community we have how you are going with this months challenge.
They provide an additional challenge and goal for the month ensuring you make real progress and results every single month.
Is this Training Approach the Difference that will Give YOU Results?
---
'As a trained communication specialist, I discovered that all riders have a preferred learning style: visual, auditory, kinaesthetic or auditory digital. ​​​​​​​
Riders often do not know their own learning style… but when they are taught in their style they learn quickly and more easily.'
---
The sad truth is that most coaches aren't even aware of this and will often teach in their own preferred learning style. Think of it like this… you are after a lesson in English and your coach is speaking Dutch. You just can't understand what it is they are trying to tell you!  
From my training, I deliver training in all 4 learnings styles.
What does this mean for you?
You will understand the content in the right way for you! You will finally understand what's being taught to you. You'll progress more quickly… and you'll have more fun and better results.
In Addition To Finally Understanding Your Coach…
You'll also get one of the biggest gifts I can give that I wish I had when I was riding…
My SECRET COLLECTION of CHEAT SHEETS!
For over 15 years I struggled with riding dressage. Some of my biggest struggles were I didn't know what I should be doing. I didn't know how to fix my horses problems. AND I didn't know how to get my horses to go better so I could win competitions.
---
'The problem was I didn't have a clear system (how should I train)… a clear path (what should I be working on each time I rode) and WORSE… I had NO idea what to do when things went wrong.'
---
And that's where Dressage Mastery is unique in the training tools you receive. Included in your training are…
Checklists (this is the how… the how do I train and what do I do)
Training plans (follow these fun training plans much like you would a personal training program and never miss a thing in a session)
Troubleshooting guide (having trouble with a particular movement… look up here to find common causes and more importantly how to fix it)
Real Time Training gives you the ability follow along the weekly training of a horse so you can follow the progress in real time… (you'll be able to take valuable learnings from these training sessions and apply them to your riding)

These cheat sheets will give you everything you need in a ride each month. Direction… clarity… guidance and possibly what you are after most. Enjoyment and results.
And all this just scratches the surface…
---
'I created Dressage Mastery Academy as the only training program you will ever need on mastering your dressage.' 
---
And if you're like the vast majority of my members, you'll be well on your way to mastering your dressage like a pro…
But don't just take my word for it….
Here's what other riders had to say about
'Dressage Mastery Academy'
…Which for some has "changed the way they are riding for the better in a totally different way!"…
'Second show for the week, second show ever for this sweet horse. Having a great time!!! Thanks for everyone's support and learnings. Thanks Natasha! I never thought a year ago I would be here.
Loving life teaching this new horse from the ground up and loving the journey!
Thanks again to Dressage Mastery, I couldn't have gotten this far without it!'
– Jerri Obalde
'Hi Natasha! First of all let me just say I am loving the program so far. The way you explain things in your videos has been so incredibly helpful! I am already walking in the ring with a new aura of confidence and for that I am so grateful.
I know it's ambitious, but I've just got this itching that I can make it far in this sport. Your story has been such an inspiration to me, and for that I want to thank you.'
– Anna Davidson
'Hi Natasha!
I went back to my trainer 5 weeks ago after a winter break. It was so fun because despite the winter break we have improved a lot (thank you Dressage Mastery)!!!!
Mainly because I now can train my very sensitive mare at home better, since my seat, rhythm, contact  etc have improved so much with your help.
As you say it is very lonely trying to train at home, train for a teacher every other week. You really need to look at someone good  riding. Now I look at your videos before riding and then go out practicing – perfect!
It is very valuable to see you train when it doesn't go perfectly as well as seeing your students doing similar faults to myself…….
Thank you for being so generous and sharing. I am so happy as I feel I am on my way to achieve a goal of mine, to learn to ride properly!'
– Lena
'I have just completed 6 moths of Dressage Mastery. Today I tested it out by attending my first competition since starting the program. Huge difference in my riding, my warm up, my mindset… everything!
It was British Dressage affiliated Preliminary, and we went really well and were rewarded with a first place! Enormous thanks to the dressage mastery team for helping me achieve this!'
– Maggie Wilson
'I switched from Dressage Mastery to Dressage Reloaded (training in real time) this month and I LOVE it!! I've been training my boy who literally knew nothing when I got him, and while we have made tons of progress, I'm recognising gaps in his training through Reloaded.
For those of you who are training your horse for the first time, check out Reloaded (training in real time), because it's seriously helped me heaps and it's been less that a week since I've started watching the videos!'
– Marta Osuna
'I watched the the video on Contact in Dressage Mastery last night and it made a HUGE difference in my ride today!!! I've really been struggling to get consistent contact and get my horse through & your explanations made a world of difference in my riding today.
I didn't really "get" contact until now & I realize now that I was trying to use my hands way too much and trying to almost pull my horse's head into the contact.
Thank you for teaching me to send him into the contact and use more seat & leg! Just wanted to let you know about my success!'
– Erica
'My name is Camilla Isabell and I'm from Norway.
Recently we've been doing more dressage, and I LOVE it! Since there is no dressage trainer nearby, I would like to thank you for having come up with a genuine program and to be a very educational instructor.
I particularly like how you explain everything thoroughly, and not least that you explain WHY it's done so.
Previously I have been struggling to know what to prioritise and focus on, with the result that I ended up just riding circle after circle without either sense or purpose.
I really appreciate being able to work toward specific goals/achievements, and greatly appreciate the "tests" along (such as; "you should master this before proceeding to the next month's lesson).
Really looking forward to seeing the further lessons and modules.'
– Camilla Isabell Kolstad
'I am telling you this is the best money I have spent on training how to ride in comparison to all the other money I have spent. The confidence that you have given me in your informative and uplifting way of teaching what you do is AMAZING. ???????????????? two thumbs up. I am a different rider in July than I was in June.'
– Dolly Marketakis
'Hi Natasha, and The Team!!!
OMG!  This is such an awesome resource!  I have been going to dressage lessons and clinics and comps and going around in circles thinking "really, what are those judges looking for? what am I really doing here?"
I have had dressage coaches talk to me about the German training scale, and I have looked at it myself too, and I have been none the wiser!  But having read Natasha's explanation of the German dressage scale – well – I'm a changed person.
I just "get it" now!  I understand why judges have been giving me poor marks in dressage tests.  I know where my pony is going wrong – whether I can actually train my pony to be good at dressage is another matter.  But I now "know" that I can train my horse to be good at dressage – he has more talent for dressage.
I just want to say "THANK YOU" for putting together all this information, for explaining it, and for putting so much thought into it – how to phrase it and what questions to answer.  It is just brilliantly put together, brilliantly thought through and brilliantly explained.  Just LOVE IT!
I'm jumping up and down with joy over here!
THANKS!'
– Ania Bodeit
So let me ask you… What would it mean to master your dressage riding?
Would it be going to your next competition and win because you are communicating better with your horse through your mastered seat?
Or perhaps you want to finally make some serious progress to the next riding level, or FEI or even Grand Prix?
Is it to show off, even just a little, how much better your riding is in front of all your fellow riders at your riding club?
Had something like this been around when I was learning I would have easily invested in it! Especially with the cost of lessons on the rise!
Lesson and clinic costs can cost anywhere between $30-$300 a time! For an average coach you may pay $60… for a great coach you may pay $90… and for a Grand Prix riding coach you may pay $120-150!
I've had a specialist Olympic coach visit from overseas and been charged a massive $450!
How has your progress been? Are you stuck? Are you getting all the results that you want? Do you understand everything your coach is teaching you?
---
'I have learnt that what us riders really want is to be guided by our coach. For someone who has gone before us to help to give us the answers and help us make the most from our riding.'
---
Without a proper guide you may be like me. Struggling with riding dressage for over 15 years.The path that I took to become a Grand Prix dressage rider was one I would not want you to take. It was one of the toughest things I've ever done in my life (and I've given birth to 2 kids!!!)
I went to lesson after lesson trying to understand it! I hate to think sometimes how much it cost in lessons, horse stabling, horses, books, trainings, searching for the answers. But I know it was well over many hundreds of thousands of dollars!!
---
'Perhaps the best thing about struggling for so long was that I gained valuable insight where I was making the mistakes and more importantly… how to fix these.
---
And so having gone through all those struggles I finally had my breakthrough and went on to:
Compete in Grand Prix at National Level
Have a ranking on the world wide Grand Prix circuit
Enjoy and have more fun in my riding
Make serious progress in my understanding and progress in my riding
I then decided I wanted to give back to other riders out there who were like me. I wanted to share the breakthroughs and discoveries I made along the way through Dressage Mastery Academy.
---
'As you can see, there's literally no other program out there like this. It's my life's work, as far as dressage education is concerned all wrapped up in this one, comprehensive program. And something I'm so proud and excited to be able to share with you today.'
---
'So what's in Part 1 when I get started today?'
Some of the lessons you will learn in Part 1 of Dressage Basics include…
The best way to use the German training scale to accelerate your results.

(Finally understand what it's all about… in plain English that'll make you want to jump out there and start training immediately)

The little known secret that more and more riders are discovering to finally give clarity to their riding.

(You'll discover the power of the unique Riding success scale and why pairing this with the German training scale gives powerful results)

Discover the importance of why making your horse go forward is very different to faster.

(I made the same mistake for years and it affected my training and progress… I'll teach you how to avoid this!)

How keeping your seat independent of the horse is essential for maintaining your horse's rhythm.

(Do this right and you'll be able to maintain a steady rhythm and your training will progress so much quicker)

The 2 most common seat positions you need to avoid that are affecting your progress.

(I used to ride in the second position which was affecting my influence of the horse and actually holding me back in my training until I fixed it)

The number 1 exercise you can start doing next ride that will fast-track your way to a professional balanced seat. (This is the quickest and most effective way to improving your balance)
Discover the number 1 reason that causes rhythm mistakes in your horse. (Fix this and you'll be able to maintain a steady rhythm in all gaits making your next stage of training much easier)
And a whole lot more, including…
What to do when challenges come up when mastering rhythm and seat. You'll be able to look up checklists (in the comprehensive printable manual) to make sure you are on track with achieving your part 1 goals. And should any challenges pop up, you'll be able to consult your manual for detailed troubleshooting guides. (Simply find the problem your horse is giving you and read how to fix it in this tell all guide).
"This is amazing! I'm in! How Do I Get Access To "Part 1″ and what is the investment?"
Dressage Mastery Academy is normally $79 a month and is fully accessible online.
However, for 5 days only, I would like to offer you a 7 day trial for Dressage Mastery Academy for just $1!!
That's less than a cup of coffee!!

And to make the decision even EASIER to start right now…
---
Try it for 7 days and THEN decide if this is right for you.
That's right. When you take Dressage Mastery for a trial run, you don't risk a single dollar.
---
Why? Because you are covered by a super generous…
You can also cancel ANY time (for any reason). Simple email me at info@dressagemastery.com with your request to cancel and you'll be removed from the program and no longer charged.
So here's how it works
AND how I can do this…
Yes, it's a financial gamble for me… but that's how confident I am that you're going to be thrilled with Dressage Mastery Academy. I've poured my heart and soul into it – and spilled the beans on everything I know.
My personal mission is to help 1 million riders improve their riding and so me and my team will do anything we can to get this valuable training into the hands of as many riders as possible.
So when you get started today… you essentially get to see and try out everything for free if you choose.  You do NOT even have to give me a reason if you decide to ask for a return.  I will trust you to do the right thing, as I have trusted people over my entire career.
And as a way of welcoming you into the Dressage Mastery family, I have some very special bonuses for you…
These will help you even more on your riding journey (valued at over $100 per month, yours FREE).
VIP Membership to Dressage Insider
Dressage Insider is the membership program that takes you behind the scenes into my riding and learnings and also what happens at the stables.
You'll receive additional training videos of me riding my horses. I'll share with you my latest learnings and how you can use these in your riding to give you the edge.
Also receive videos my me coaching other riders so you can see how I teach it to them. Learn from their mistakes and take these learnings into your own riding.
Lastly come behind the scenes at the stables and discover the latest things we have learnt in caringfor your horse, preparing for competition and other topics that you'll find educational and useful for you and your horse.
Value: $29 / month
Yours FREE!
Private Dressage Mastery Community
You'll be part of the interactive, supportive, motivational and fun Dressage Mastery Facebook community.
One of the great aspects of Dressage Mastery is the community you'll be part of.
Surround yourself with other riding superstars around the world as you share your riding experiences, learnings and results.
The private group is made up of riders just like you who want more from their riding and are taking action to get there.
Value $29 / month
Yours FREE!
Live Q & A With Natahsa
Join in the discussions with me as we jump into quarterly live Q & A sessions.
Post your questions live or send them in before the session and I will answer them in detail.
This is your chance to have your very own question answered live by me.
These have been valuable when riders are having a challenge with their horse or certain parts of the program.
It's another excuse to hang out and learn some great things.
Value $29 / month
Yours FREE!
Monthly Riding Challenge
Discover the the #1 must do riding challenge each month that I love to give that will dramatically improve your dressage.
These fun challenges have already been taken up by hundreds of riders who are loving them.
Regardless of your horse you ride or how long you have ridden you'll be able to participate in these challenges.
Then share your experience with everyone in the private group.
We love supporting, assistance and celebrating your improvements!!
Value $19 / month
Yours FREE!
These bonuses are included so you get the results you want from your riding. You'll never be searching around the internet again for your dressage answers.
And if you do have a question, post your question in the private Facebook group. Most likely someone has already experienced it and will help you out. And if not, I'll be in there to answer your extra riding questions.
Yours FREE with your investment in Dressage Mastery Today
Special Offer
What You'll Receive Today:
Dressage Basics Part 1 of Dressage Mastery Academy 
My Secret Cheat Sheets, Trouble-Shooting Guides, Training Plans, Audios and Manuals.
+
The Special Bonuses: Valued at $106/month…
24 hour access to the Dressage Mastery Academy and the bonuse

30 day money back guarantee if you are not happy for any reason

Have all the tools you need to progress and be that dressage superstar you've always wanted. To look like a top professional and have fun at the same time
If you are loving the program and making amazing progress with your riding, you'll be a charged monthly, at $79, for each new month of the program
Cancel Dressage Mastery Academy anytime – you're never locked into a long term contract
I'm so excited for you because… you are just on the edge of discovering that there is a whole new way out there of training!
One where you understand exactly what it is you are doing. One that saves you time, frustration, money and tears.
This is all included with your investment… at an embarrassingly reasonable price… AND if for some reason you're not completely satisfied, you've got nothing to worry about, because you don't risk a penny! 🙂
Are you ready to get started?
See you on the inside!!
To Your Success,
Natasha Althoff
P.S. Where will you be in 30 days, 100 days or even a year from now in your riding if you don't act now? Frustrated and confused after pouring your heart into it? Perhaps worse still is you could be in the same spot! Why put yourself through all this when Dressage Mastery Academy is a much better solution? Click the button above to start getting the results you want in your riding.
Frequently Asked Questions that Natasha Receives:
Why should I join Dressage Mastery?
Have you ever wanted dressage riding to be simpler to understand?
​​​​​​​​​​​​​​Less confusing?
​​​​​​​I know when I was learning, all I wanted was a system to follow, which is why I created the Dressage Mastery program.
​​​​​​​This is why Lisette joined…
​​​​​​​'The reason why I joined your program recently is because I'm getting confused by all the information I get. I need some (read: lots of!) structure and guidance. Thank you so much for the opportunity and the passionate way you share your knowledge and skills!'
Can I pause my account at any time to catch up?
If you need to catch up, you can downgrade to Dressage Insider ($19/month) which means you will continue to have access to all of your Dressage Mastery levels and give yourself time to catch up and master the previous months lessons.
Simply email us at info@dressagemastery.com and let us know you'd like to downgrade your membership and a member of our support team will confirm within 2 business days.
You can of course restart Dressage Mastery at any time you like – just send us an email and we will set it all up! Dropping down to Dressage Insider also locks in your special offer investment of $49 per month for future parts of the program.
How much is Dressage Mastery?
Dressage Mastery Academy for you today is $1 to trial for the next 7 days, after which time if we haven't heard from you we will assume you are loving the learnings and wish to continue with the program.
After the first 7 days we will process $79 and give you access to part 2 of the program, and each month thereafter for as long as you would like to continue to receive new parts of the program.
How do I sign up to the Dressage Mastery program?
To sign up to the program, click on the 'Join us' buttons located throughout this page and fill out your details – you will receive all of your login information to the email address you provided (so make sure you triple check it is correct!) and you will have access to the first part of Course 1, plus your special bonus, with new content delivered to each month you continue as a member of the program!
What do I get each month?
Each month after payment you will be given immediate access to the next part of the program, as well as continued access to the previous parts of the program (including updates and additional new material being added whilst you are a current member).
On odd months of the program (eg. 1, 3, 5…) you will receive…
On even months of the program (eg. 2, 4, 6…) you will receive
– Weekly training in real time (for 4 weeks)
– Lessons with Tash
– Barn Secrets
I am loving the program so much, can I fast forward my access without waiting?
We LOVE that you are so keen!! You can absolutely fast track through the program if you wish – there are fast track buttons on the program pages, or you can simply email info@dressagemastery.com and let us know you would like the next part of the program!
How long do I have access to the parts that I have paid for?
Dressage Mastery Academy is a subscription program, so as long as you are a current member you will have access to everything you have paid for so far. If you need to catch up, you can downgrade to Dressage Insider, which means you will continue to have access to all previous Dressage Mastery Academy levels while you catch up, as well as new Dressage Insider content each week.
I'm not very computer savvy - how do I login and access my online content?
Don't worry – you will be sent all of this in your part 1 email (which we recommend you keep) walking you through how to access the program, as well as your login details.
English is not my first language – I am located overseas, but I do speak English well – will this program help me with my competition riding?
Of course!! The ideas and techniques are universal. Everything is in English (Natasha is from Australia) including the manual and the videos, but the concepts are the same regardless of country or language.
How will I stay motivated and supported throughout my dressage journey since this is an online program?
We have set up a private online Facebook community – the page is called "Dressage Mastery Academy". If you wish to be a part of the Facebook group, simply search for the page "Dressage Mastery Academy" and request to be a part of the group. If your Facebook name is different to the one you registered when you signed up for Dressage Mastery – just send through an email to info@dressagemastery.com letting us know who you are, or send a message to "Your Riding Success" on Facebook. You will also be sent a link to the Facebook group in your first email.
The Facebook group gives you access to other members of the program, it's a community of like minded riders that can relate to the journey you are going through, so that you can swap stories, support and champion each other throughout the program. Natasha also posts regularly in the group 🙂
Are my details secure?
Yes – Dressage Mastery (and Your Riding Success) will not share any of your details with anyone. We keep your email address so that we can contact you, but this is not shared with any 3rd parties.
Dressage Mastery uses one of two secure payment gateways – PayPal or eWay (which is Australian) – to process your transactions each month, so you can be confident that your details are kept private and will not be shared or compromised in any way.
I train with another trainer... will this program work whilst training with them?
If you see your coach once a week or every 2 weeks, there is a lot of riding by yourself. As we all know when riding without anyone else it can be quite an isolating experience of feeling alone and lost.
​​​​​​​Having someone to guide you between lessons can be a massive help!
​​​​​​​Haley agrees with this… 'You know when you say at the beginning of your Dressage Mastery video how isolated you used to feel and how you didn't like to ride without your coach? Well that is exactly how I feel. So your videos do wonders for encouraging me and giving me confidence in between lessons.'
Does the program only show the horses going perfectly?
I believe you get the best learnings from seeing what really happens when I ride the horses. This includes when things don't go right!
​​​​​​​'Thank you Tash for showing the honest behind the scenes training. It is so easy for a lot of us to chip away at ourselves and say we are the only ones that have these problems, the good riders wouldn't struggle with this.
​​​​​​​​​​​​​​So thank you for showing your struggle and positive attitude. The antics of your horse and mine were near identical and I have much more of an understanding now.' – Carol (DMA member)
Do you teach about the half halt and other common dressage principles?
One of the most used terms by trainers is the half halt. It is also one of the most used aids of the dressage rider. What I find surprising when teaching riders is often they can't explain clearly what a half halt is… as well as other common dressage terms!
​​​​​​​After going through Dressage Mastery you'll have a clear understanding of all the dressage principles and know exactly what you are trying to do.
​​​​​​​Emma experienced this… 'I've never been properly taught how to half halt and my instructors have never told me to half halt,  so my learning in this has all really been from your programs!!
​​​​​​​And before I was still confused about it. ​​​But now after doing your program this has really been like 'wow' ok I get it now!!!!! So I practiced it today and I really could feel what was going on and the small changes,  it was really liberating and exciting.'
Does the program show young horses?
The great thing about the program is that it starts with the dressage basics and foundations that we as riders must all have to build upon. To give you the most comprehensive library I ride and teach on a variety of horses.
​​​​​​​And yes, the level I teach at is the level the horse is up to. So at basics and 1st level, the horse is currently training at that level.
​​​​​​​Deea has a young horse and loves the program… 'While I love watching your more seasoned horses and how perfect they go, watching the imperfect green beans is so useful for me. I have a 4 year old and I get so much out of watching you handle the baby-isms that come with being green.'
When I signed up you asked for my postal address? Do I receive anything in the post?
Dressage Mastery is designed to be accessible to  riders worldwide, so it is all available online – you have instant access!
Your postal address is required for our invoice system, even though nothing will actually be physically sent in the post, they like to have it at the top of your invoice and on file so that we can identify who you are if two people have the same name in our system!
Can I change the email address I have linked to my account?
Yes – just make sure you email info@yourridingsuccess.com with your updated details, and we will sort it all out for you. When you change your email address or contact details with Dressage Mastery, any other Your Riding Success programs that you are a member of automatically get updated too!