Dressage
Mastery academy Membership
Discover How To Quickly and Easily Improve Your Dressage Riding and Never Feel Alone, Confused & Frustrated Again
Dear Dressage Riding Superstar,
Dressage can be a struggle at first – I get that. When I first started riding I naively set the goal to reach Grand Prix in 5 years! Little did I know that I was in for a difficult journey of tears, frustration and thoughts of giving up.
This journey is where I would make every mistake in the book, feel alone in my training and be lost and confused with what to do next!
One of the advantages of the journey I took to Grand Prix is that I've done my 10,000 hours of training, and had the chance to work with dozens of world-class trainers and Grand Prix Dressage riders, and coach 1000's of riders world-wide.
What I discovered was that I was not unique in my experiences of frustration and helplessness in my dressage journey. In fact, riders all around the world were having these same experiences of confusion, not knowing what to do and feeling alone.
In fact, did you know that most dressage riders struggle with the same things
they all need to know how to…
Connect their seat more effectively with the horse
Train effectively and productively by themselves
Fix small common problems early before they become big problems
Keep their hands still and supple
Follow the German Training Scale, but more importantly understand the German Training Scale
Learn and understand the Rider Success Scale
Learn and master the rider mindset so you can ride with complete clarity and focus
Progress in their training
Have fun learning and enjoy the journey
Have you ever wondered why it's so hard to get all these things to come together?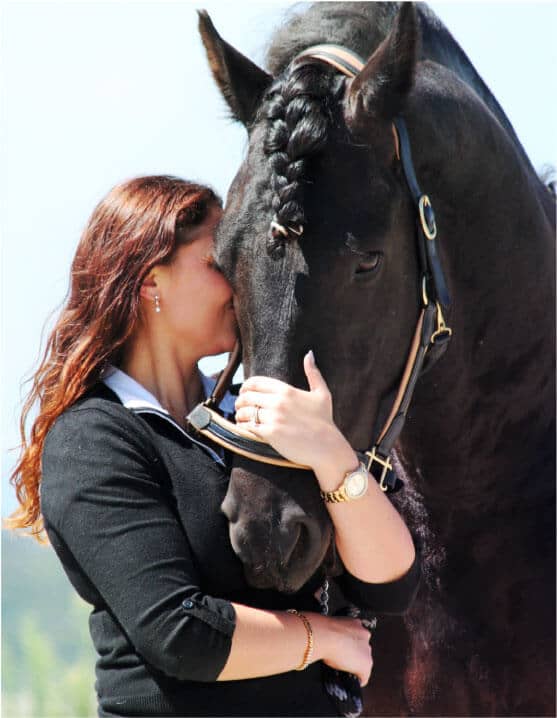 It's not your fault, you've probably heard many different opinions and learned from a whole bunch of different coaches and are more confused that ever…
That's OK. You are in the right place. I have helped thousands of riders just like you get on track with their dressage journey so I'm confident to say I can help you.
You don't know what you don't know. And right now you are trying to progress in your dressage journey while missing the secret ingredient. It's like trying to drive your card without the steering wheel. It just doesn't work, no matter how hard you try.
That's why I'm so passionate about sharing the secret with you so you can get massive results and enjoy your dressage journey again.
     The
Secret Scale

FOR BETTER UNDERSTANDING & ACCELERATED PROGRESS
I found that most riders, myself included, were lacking in development as a rider to keep up with the German Training Scale. Riders and trainers were so focused on what the system was saying, what the horse needed to do, and how the horse needed to develop.
BUT the development of the rider to keep up with the horse was neglected.
And from necessity, 'The Rider Success Scale' was created. The Rider Success Scale works on the progress of the rider and pairs perfectly with the German Training Scale. Many coaches tend to focus solely on the horse and neglect the progress of the rider. This creates a frustrating and unrewarding experience for everyone. The riders skill and strength has to be developed along side the horses skill and strength so an even partnership is maintained throughout the training journey.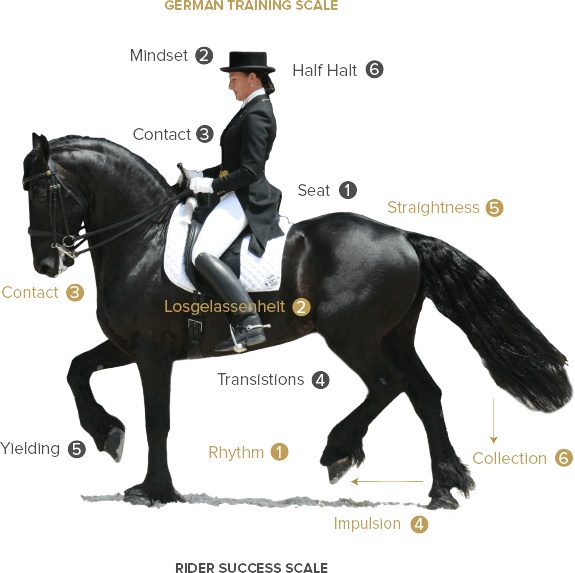 The
Riding Success Scale 
IS THE MISSING PIECE OF THE PUZZLE FOR MOST RIDERS.
The Rider Success Scale ensures real progress is being made and ultimately the journey is much more fun for you when you understand what you are doing and progressing through the levels.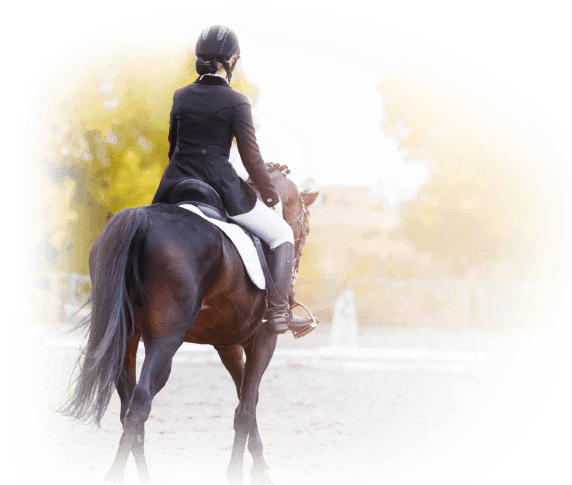 The creation of the Rider Success Scale came about from a drive to become a Grand Prix dressage rider. It took years of work, trial and error, and a belief that there has to better way.
Where I had previously been stuck for so long, I suddenly made serious progress and sped along and progressed through the levels.
The system worked for me but what about other riders? I taught my new training system to a handful of riders, integrating it with the German Training scale. And it was their renewed passion for riding, understanding, and progress that I began to understand the power of the system I had created.
The key to my coaching system is my in depth training in communication, coaching and NLP training. My skill is taking something that is complex and requires a lot of feeling and breaking it down into simple easy to follow step by step instructions I attribute much of this to my training in Neuro- Linguistic Programming (NLP).
It was through this training and studies that I was able to take the complexities of Dressage and teach them so that any rider could understand the principles and apply them to their riding.
I love I can share my proven step-by-step riding system all over the world so riders can receive riding instruction from the comfort of their own home or even their stables.
Your Complete Online Training Membership Program from Basics to Second Level Dressage (or anywhere in between) that Guides You in a Fun & Successful Way…
The
Dressage
MASTERY PROGRAM MEMBERSHIP
IS DESIGNED TO:
Help you enjoy your riding and have fun while you learn
Give you a complete framework and structure to train your horse
Make you smile and enjoy the journey
To clear up misunderstandings and confusion around training a dressage horse helping you understand what you need to do and when you need to do it to progress you through the levels
Make you feel good about riding, learning and mastering dressage
Demystify and help you understand complicated feeling terms such as thoroughness, losgelassenheit, connection, on-the-bit and impulsion
Give you a complete system of knowing what to do when you rides so you never feel lost again.
Improve your seat so you have a more centred, stable feeling in the saddle looking like a Grand Prix Dressage Rider
how Does the 
Dressage Mastery 

Program work?
Dressage Mastery Academy teaches the 6 parts that make up the German Training Scale and the 6 parts that make up the Rider Success Scale which results in 12 lessons. Master these 12 lessons and you are going up to the next grade! Each grade still focus on the 12 lessons but adds on the movements required for that level.
If you are training the Grand Prix level or training 1st level the focus is still exactly the same with the emphasis placed on these 12 lessons. The challenge becomes keeping the 12 levels good while you add the movements.
The first level of training in Dressage Mastery is Basics or 'Fundamentals' level. This is the key to building your foundation for you as the rider and trainer for you and your horse. In having a solid base, it is easier for you to progress through the grades to get to where you want.
Some of the lessons in foundations include:
The 3 must do's to having a seat like a Grand Prix rider
The 3 must do's to having a seat like a Grand Prix rider
How to ensure straightness in your horse… a vital step riders get wrong
Losgelassenheit – heard of it? Possibly the secret to the German riders dominance in dressage for so long
Preparing for the perfect transition
The 7 step checklist for the correct leg-yield
10 rules for a winning mindset
Understanding the most misunderstood term in dressage riding… 'the half-halt'
in additional to the

12 Modules
YOU WILL RECEIVE THE FOLLOWING RIDING BONUSES WITH YOUR MEMBERSHIP
TO ACCELERATE YOUR RESULTS
Included in your membership
Want to ask questions to me and also other DMA members through the program? How about for lifetime after the program? Then this is the way to do it.
I help out fellow DMA members in this Facebook group plus post new relevant videos and updates on an ongoing basis.
You'll love being a part of this community.
Included in your membership
Do you your own riding question related to your horse that you would like answered in more detail?
Join in 'Live' every week with a dressage coach to get your questions answered in the Private Dressage Mastery Academy Members questions on Facebook. This is your chance to have your very own questions answered live.
Riders have found this super valuable to hear a longer answer related to their very current problem AND it's another excuse to hang out and learn some great things from other riders questions.
MONTHLY RIDING CHALLENGES
Included in your membership
Fun activities and games, and that is why each month I include a fun challenge that complements the months learning.
These fun challenges have already been taken up by hundreds of riders and regardless of your horse, you'll be able to participate in these challenges. Members then love sharing their experiences where the community supports, assists and celebrates your monthly wins!
DO YOU WANT
Quicker Progress
AND FEWER RIDING FRUSTRATIONS
I was once stuck and lost like you are in your your journey. There was no step-by-step system to follow each week and riding was frustrating. I didn't know what I should be doing.
I didn't know how to fix my horse problems. AND I didn't know how to get my horses to go better so I could win competitions.
There was no clear system on how to train and what to work on each ride AND no answers for what to do when things
went wrong.
I am sure you can relate to this!
I read all the books written on dressage, watched many training videos, trained in person with many world class Olympians and trainers, and spent months at their stables.
It took 15 years making mistakes, coming last, getting it
wrong, looking bad and not getting anywhere fast…
BUT I finally figured it out.
So can you. You can do what I did and take the same road
or…
Be smarter than I was and take the short cut. You might not have 15 years and 10,000 spare hours to learn it all or to figure it out. You may not be prepared to fail over and over and over again while you learn what works and what doesn't. You may not want to feel frustrated, alone and unsure anymore.
Follow the step-by-step journey in Dressage Mastery Academy that condenses down everything I've learned. And be guided on an exciting journey where you'll save time, money, frustrations and thoughts of giving up.
Don't let the fact that it's a monthly training program fool you. Over 15 years and 10,000 hours of learning and experience and years of production and development
Simple 

TO USE. EVEN SIMPLER TO FOLLOW…
I had the Dressage Mastery Academy members area designed so it's super simple to use. Computers and me don't get along, sometimes
I don't even know how to turn it on!
So it is super simple to login to, and to walk through step by step what to do. You get to sit back and watch the videos, follow along with your printed notes as I walk you through what to do.
The system is simple and FAST to learn so you can implement this information immediately on your horse next ride.
Can you imagine how much faster and easier it is when you follow a proven system of a rider who has made thousands of costly mistakes before becoming a competitive Grand Prix rider.
AS A CURRENT MEMBER YOU WILL 
Receive
Dressage Mastery Academy membership is an all-access style membership program. You have access to all parts of all levels for as long as you are a current member. Each part of the program includes:
HOW TO RIDING & COACHING VIDEOS
Videos of me riding or coaching a variety of riders.
Including GoPro footage to give you views of what the riders hands are doing so you'll be able to learn quicker and see what works and what doesn't work.
FULL LESSON VOICEOVER AUDIO
Take these downloadable lessons and learn whenever you want by having an instructor in your ear.
Listen on the road, at the barn or on a walk. These lessons will explain what is happening at every moment giving you a complete picture of what's happening.
CLASSROOM THEORY LESSON
Finally a class you wish they had at school!
Learn the strategies you need to train your horse through the levels.
You'll finally have a complete understanding of all dressage terms like never before!
MANUAL
Learn the strategies you need to train your horse through the levels. You'll finally have a complete understanding of all dressage terms like never before!
Download these and print them out and write notes in it as you make your way through the training.
Your first manual is over 25 pages.
TRAINING PLANS
You'll never be stuck again in what to do in a riding session!
Follow these training plans when you ride. They are carefully thought out to make the most from your ride at each level.
The result… a complete worked horse and quicker and progress.
MONTHLY TRAINING CHALLENGES
These fun, useful challenges will have you sharing with the private riding community we have how you are going with this months challenge.
They provide an additional challenge and goal for the month ensuring you make real progress and results every single month.
 THE

One Thing
WHICH YOU CAN NEVER GET BACK IS TIME AND THAT IS WHAT 'DRESSAGE MASTERY ACADEMY' SAVES YOU AND GIVES YOU
Could you successfully make it through the grades and ultimately become a Grand Prix dressage rider on your own without 'Dressage Mastery Academy'? Sure you could, but why?
Why should you go through all the tears, frustrations and trial and error that I did?
To learn through trial and error when you don't need to is painful and unnecessary. Especially when you have someone who understands and has taken the time to lay it all out for you in a complete step-by-step system. And that system is ready for you right now.
This is just a few of the many riders who have progressed in their dressage journey and have gained REAL results from following my proven system.
$147
per Month for 12 months
(under $5 per day)
Annual Membership
You Save $273
Annual Membership
MY "LOVE IT OR YOUR MONEY BACK" NO RISK GUARANTEE
You Are Protected By Our 100% Money Back Guarantee
If Dressage Mastery does not perform exactly the way in which I have described it to you – you don't like the program or you don't believe it will benefit you on your riding journey, just simply contact me within 7 days and we will immediately give you a prompt refund of your purchase. You have absolutely nothing to lose. Terms and conditions apply.
You have a 
Choice
TO MAKE TODAY
You can continue on at your own pace and the way that you have previously been doing things. And someday you may or may not make it to FEI or even Grand Prix but the journey will be tough.
You can make the same decision which thousands of people have already made and that is to let me teach you. Let me be your guide, hold your hand and give you the instruction and training which you rightfully deserve.
YES Natasha! I want to learn the exact strategies and techniques which have been proven for making serious riding progress. I want to fast track my learning and my results and get back that enjoyment of riding!
this offer in its current form may not be around forever
Dressage Mastery Academy is the riding solution that riders have been after. The exciting thing is that I continually add to Dressage Mastery year after year. I am training with the worlds best riders and trainers – building upon it giving riders even more value.
Dressage Mastery Academy has already had a number of price increases.
Even now I am working on new material to include in Dressage Mastery Academy. Exciting new exercises I've been learning from top trainers that I know will help you massively in your riding. With all this extra content the price is sure to go up in the near future.
Time is of the essence to grab Dressage Mastery at its current price. Once you are a member, your membership price stays fixed! Even when Dressage Mastery price goes up, yours does not!
"Imagine how your riding will look and feel when you take action today…"
Confidently knowing exactly what to do every
time you enter the arena.
Clearly communicating with your horse so that it understands your aids each and every time. So that your thoughts are your horses actions.
Winning at your next competition and riding the best test you and your horse are capable of.
Making some serious progress through the grades
to the next level.
Having the seat of a top dressage rider sitting still
and looking as one with your horse.
Enjoying your riding once again knowing that you
are not alone.
Having the answers you need any time a riding challenge arises so that you can fix it quickly and
easily before it becomes a bigger problem.
I am so excited to welcome you into the Dressage Mastery Academy where you will discover a whole new way of training. I know you will find the success and the enjoyment you have been looking for in your dressage journey.
Natasha Althoff
Grand Prix Dressage Rider &
Dressage Coach Specialist
P.S. Where will you be in 30 days, 100 days or even a year from now in your riding if you don't act now? Frustrated and confused after pouring your heart into it? Perhaps worse still is you could be in the same spot!
The proven step-by-step system that cost me over $250k and 15 years to learn have worked for countless other people just like you. It's 100% guaranteed so you can't possibly lose money. It's a no brainer.
frequently asked 
Questions
THAT NATASHA RECEIVES
Why should I join Dressage Mastery?
Have you ever wanted dressage riding to be simpler to understand?
​​​​​​​​​​​​​​Less confusing?
​​​​​​​I know when I was learning, all I wanted was a system to follow, which is why I created the Dressage Mastery program.
​​​​​​​This is why Lisette joined…
​​​​​​​'The reason why I joined your program recently is because I'm getting confused by all the information I get. I need some (read: lots of!) structure and guidance. Thank you so much for the opportunity and the passionate way you share your knowledge and skills!'
Can I pause my account at any time to catch up?
Dressage Mastery Academy is a membership program. You only have access to the program as long as you are an active member.
How much is Dressage Mastery?
Dressage Mastery Academy is currently $147 USD per month.
How do I sign up to the Dressage Mastery Academy program?
To sign up to the program, CLICK HERE and click on the 'Join us' button and fill out your details – you will receive all of your login information to the email address you provided (so make sure you triple check it is correct!) and you will have access!
What do I get each month?
Dressage Mastery members have access to the entire catalogue of training videos for as long as you are a current active member. This includes Dressage Mastery core program (basics to Grand Prix); Training In Real Time; Eqflix (comprehensive video library of over 1,000 videos); training plans; audio training plan; manuals; bonus content released throughout the year.
Can I get the program in hard copy? My computer is old and slow, and I would prefer to watch the videos on the TV.
Currently Dressage Mastery Academy is only available in hard copy in special circumstances – we do not keep readily available hard copies of the program for you to purchase.
How long do I have access to the months that I have paid for?
Dressage Mastery Academy is a subscription program, so as long as you are a current member you will have access to everything.
English is not my first language – I am located overseas, but I do speak English well – will this program help me with my dressage riding?
Of course!! The ideas and techniques are universal. Everything is in English (Natasha is from Australia) including the manual and the videos, but the concepts are the same regardless of country or language.
Is the program available in other languages?
At this stage, Dressage Mastery Academy is only available in English. If you feel that the program would benefit from being translated into your language – we are open to volunteers to help translate it!
How will I stay motivated and supported throughout my dressage journey since this is an online program?
We have set up a private online Facebook community – the page is called "Dressage Mastery Academy". If you wish to be a part of the Facebook group, simply search for the page "Dressage Mastery Academy" and request to be a part of the group. If your Facebook name is different to the one you registered when you signed up for Dressage Mastery Academy – just send through an email to members@yourridingsuccess.com letting us know who you are, or send a message to "Your Riding Success" on Facebook.
The Facebook group gives you access to other members of the program, so that you can swap stories, support and champion each other throughout the program. Natasha also posts regularly in the group, and you are the first people to have access to the next weeks Dressage Mastery TV 
Do I pay $147 per month forever? Or is it just for 12 months?
No – you pay $147 USD per month for a minimum of 12 months and for as long as you wish to stay a member of Dressage Mastery Academy and feel that you are getting value from the program. You will have access to the membership for as long as you are a current member.
I love Natasha's YouTube videos and learnings, but I think my money would be better spent on private lessons rather than an online program – would Dressage Mastery Academy be of any benefit to me?
We understand your apprehension about an online program – that's why we have a 7 day money back guarantee – we take all the risk, so everyone can see how this program works, how Natasha teaches and conveys her wealth of dressage knowledge to you.
With a private lesson from a coach on your horse, the lesson is gone once you have finished – whereas Dressage Mastery Academy gives you subscription access to the learnings, which you can go over and over again at your leisure.
Are my details secure?
Yes – Dressage Mastery Academy (and Your Riding Success) will not share any of your details with anyone. We keep your email address so that we can contact you, but this is not shared with any 3rd parties.
Dressage Mastery Academy uses a secure payment gateway – PayPal Payments Pro, which is a branch of PayPal used for businesses that have subscription products like Dressage Mastery Academy available – to process your transactions each month, so you can be confident that your details are kept private and will not be shared or compromised in any way.