To get to know us a little bit better, watch our 60 minute seminar streamed worldwide
HEAR ONE OF OUR SUCCESS STORIES!
"Through watching the training scale videos I identified that the root cause of my connection issues was the lack of suppleness.
At the time, my mare had decent rhythm and was forward enough but contact simply wasn't there.
The training scale videos made me find the missing piece: suppleness. Learning that the horse needs to be supple enough to be able to connect was a huge game changer.
I then started practising some of the suppleness exercises from the videos and boom, connection started getting more and more consistent! But it didn't stop there.
Through working on suppleness and practising the exercises we improved so many other aspects, including the quality of our lateral work, spookiness, and even straightness.
In essence, this experience has showed me in practice what Alicia said in many of her videos: all the components of the training scale are interconnected and suppleness is a huge key factor that you never stop working on, the more supple your horse is the more you are able to achieve.
I am so grateful for all the amazing knowledge we've been receiving from you Alicia!"
– Mariana (DMA Member)
Welcome to Dressage Mastery Academy (DMA). Founded by Grand Prix Dressage rider Natasha Althoff, DMA is a friendly non-judgmental place where riders can ask ANYTHING there is to know about horses and dressage. This program demystifies dressage as a sport. Our members REACH THEIR GOALS! We have success stories from "first canters" to training all the way up to PSG level after riders use our DMA program.
All this success is achieved within a safe, positive and fun environment. DMA strives to allow this sport to be less judgemental, and instead a more inclusive, helpful and supportive place to thrive.
In recent years, Natasha's good friend and fellow Grand Prix rider Alicia Dickinson has taken the reins for the live aspect of DMA.
Alicia, alongside her long list of riding accomplishments, has studied:
Equine Bio Mechanics
Nutrition
Coaching and training strategies
Personality profiling
All of this gives her a set of unique skills that allows DMA to guide its members through the maze of training dressage horses.
Both, Alicia and Natasha have completed more than 10,000 hours of training, riding and competing at the highest levels. Both have had the opportunity to work with dozens of world-class trainers and International Grand Prix Dressage riders. And they share thousands of hours of this knowledge each year with DMA members – so you can watch, learn and feel inspired.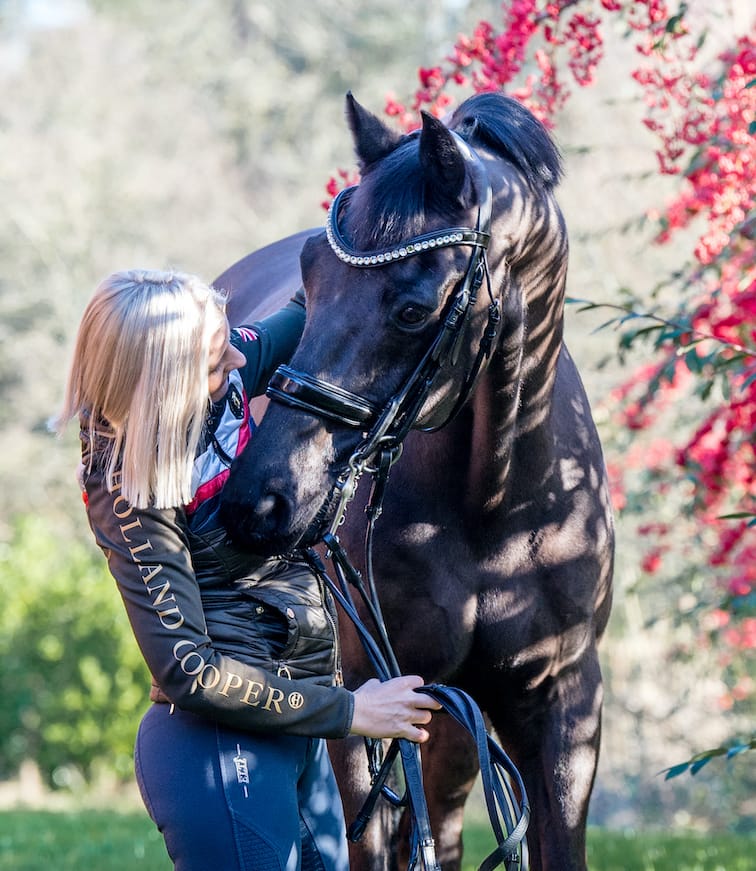 Watch this video from DMA member Diane, who was blown away with the progress of her horse Tally, using the leg yield to get her on the bit. 
She couldn't believe how simple it was after watching a video on DMA of Alicia and her OTTB Mowgley using the leg yield on the circle.
Diane was then able to get Tally supple enough to connect to the bridle – a huge breakthrough for her. 
She couldn't believe how well it had worked, and wanted to thank Alicia for sharing her knowledge!
Dressage Mastery Academy membership is an all-access program offering coaching and resources across all levels. This includes:
Young horse training
Basic flat work for older horses
Disciplined dressage from intro to Elementary/Second Level
LIVE help and training guidance all the way to Grand Prix
The program includes:
LIVE STUDY SESSIONS
Talk to us live.

Attend up to 40 hours of pnline sessions each and every week, to make real progress in your riding. Join us for study groups, masterclasses and Q & A session, ALL guided by FEI level coaches.
You can even submit videos of your riding, get one-on-one help with your current riding challenges. These groups are the cornerstone to our program.
Every time you get off your horse you might think…. "Was that correct? Was that my mistake, Or my horse's".

Now, imagine if you could:
1. Show an FEI rider
2. Ask their opinion
3. Then they would help
4. Attend up to 40 hours of sessions!

With DMA this is EXACTLY what you can do!
"HOW TO" RIDING & COACHING VIDEOS
There are over 1,000 hours of videos available to watch on the site as a DMA member, with exclusive new content added every week…

Choose to focus on an area of your riding you want to improve, watch the experts, or learn from viewing other riders mastering your level.
GoPro footage also gives you views of what the riders hands are doing, so you'll be able to learn faster – and see what really works.
Every month YOU as a member have the chance to submit and then vote for the "big topic of the month". This ensures that our DMA content remains current and deals with your challenges as they arise.
LESSONS ON PODCAST
Have an instructor in your ear with downloadable lessons that you can listen to as you ride.
These audio notes help and remind you of the rules.
Imagine you're riding a shoulder in – remember your line, your train tracks, your seat, when should you abort mission… It's almost like having a coach with you in real life, we are your eyes on the ground, making sure you don't forget the key points to success.
CLASSROOM THEORY
Finally a class you wish they had at school!
Learn the strategies you need to train your horse through the levels.
You'll finally have a complete understanding of all dressage terms – and how to execute them – like never before.
MANUALS
Each booklet includes clear explanations, demystifies dressage concepts, has troubleshooting guides and key checklists at each level.
Download these, print them out and write notes in them as you make your way through the training.
TRAINING PLANS
You'll never be stuck again with what to do in a riding session.
Follow these training plans when you ride. They are carefully thought out to make the most of your ride at each level. Listen while you're training – the plans are also recorded so you have an audio version which will guide you step by step through your session.
The result… a completely worked horse and quicker progress. 
Join Dressage Mastery Academy for $197/month
READ MORE OF OUR DMA MEMBER STORIES!